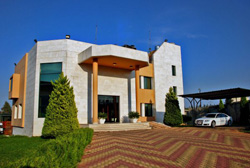 Joud Lamaica company is one of the subsidiary branches of Joud Wood Corporation which was established in 2004 starting the process of Lamaica and melamine MDF production.
Lamaica products are new decorative classy trends.

VISION
Since 1933 and due to the process of continuous development Joud company has devoted itself to promote the trade and industry, locally and globally.
Which led the company to take a leading position in the care of social projects, and supporting the national economy, by focusing on the accuracy of the quality and after-sale services as our main commitment where the company devote its full experience and facilities to satisfy customers and maintain its name as an identification mark of quality assurance.

OUR MISSION
We accompany each of your steps with excellence, beauty, and comfort, that is because of the finest types of wood flooring and the continuous working to provide it with its full accessories in the most favorable prices and the best after-sale services, offered by our specially trained and qualified team to serve our customers in order to preserve the splendor and beauty of our goods, and to accord with our country from import and sale to manufacturing and export in line with the originality and authenticity of our company name J O U D.