Providing full installation accessories:
(Skerting, aluminum, plastic and foam) in addition to our varied range of colors and in order to match all the aesthetic and technical details you need.
Joud Parquet provides you with the appropriate life style for each room and each usage, be it modern or elegant classic, for private or commercial usages. Joud Parquet presents to you the optimal compensation of excellent quality and elegancy of design.
| | |
| --- | --- |
| | Level mouldings ensure a soft, such as fitted carpet, tiles 1000mm and 2000mm long /varnished or raw/ |
| | T mouldings are used when the surface of the floor is very large and join floors between rooms 1000mm and 2000mm long /varnished and raw/ |
| | Stairnose high designed to finish the edges of stairs made from barkinek floorboard and creating a soft transitin in the case of large differences in level1000mm and 2000mm long /varished and raw/ |
Technical Specification: Natural wood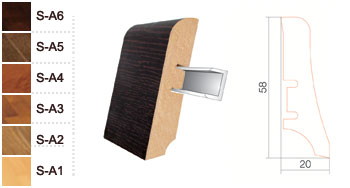 Six Different Color Available